I've done very well for myself in my career. I have few regrets about the path I chose in life. With no college degree, and only a barely passable high school education (thanks, bullies), I make a competitive and comfortable salary, working for a good boss and employer, doing challenging and satisfying work. It's a good spot.
"Hey, maybe now would be a good time to become a full-time student," I said to myself.
I do occasionally find situations where not having a formal education seems to have stunted me. MBAs and business professionals seem to speak a strange, unfamiliar dialect of common English that is beyond me. Marketing lingo is particularly confounding. Presentations from senior leadership, ocassionally, seem downright otherworldly. I know there is meaning to all these words, but I lack the education to truly understand them.
I'm very good at my job, I know from the feedback that I receive from my peers and supervisor. I'm also an effective communicator with my team and those in adjacent teams. Business communication is where I'm lacking. For instance, explaining "DevOps" to a senior executive in a way that makes them want to invest in it more. (My current answer: I build things that help software developers do better work, faster.)
So I've started a four-year degree program, BA in Business Administration. I'll consider the Master's after I get done with the Bachelor's, depending on how much I like (or hate) it. Beyond the business communication skills, I don't have a ton of expectations for what to get out of the program. I just hope to gain some knowledge (and a credential) that will come in handy one day.
Thanks to a particularly generous tuition assistance program with my employer, this program comes at no cost to me. It's offered through University of Arizona Global Campus, a quasi-for-profit online university. If you search around, you can find a lot of negative press about UAGC. However, I've talked to a number of higher education professionals at non-profit state universities, and they all seem to agree that this is a good opportunity for me.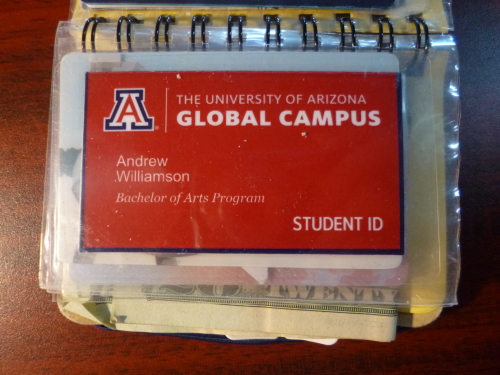 UAGC even gave me a fancy schmancy student ID to print off and go laminate at the Office Depot. How about that?
Tags: career, education, self improvement, work | No comments