So here's something, you can get prosthetic testes for your male dog after having him snipped. They're called Neuticles, and they appear to be more or less the same thing that human males get when they have to have a similar operation done.
I suppose I'm not against that, if it truly helps the dog. The worst outcome may be having to explain to somebody that, as a matter of fact, your dog is fixed, but you opted for him to receive an additional cosmetic procedure to boost his ego a little bit. I'm sure this kind of thing that comes up at dog parks a lot.
Neuticals has merch. You can get a Neuticles T-shirt, a Neuticles Frisbee, and regular old stuff like Neuticles earrings.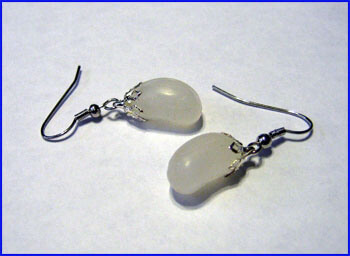 If I did drag, I could rock these. I would call myself "Testarossa Snips" and dance around the stage with a large pair of bolt cutters, lipsyncing to songs such as Whitney Houston's All the Man That I Need or Can't Take That Away by Mariah Carey. Maybe I could get my husband to dress up as a sexy version of Bob Barker.