Tonight, the "Green Building", or Bank of America Plaza in Dallas, TX is lit up in the national colors of Ukraine.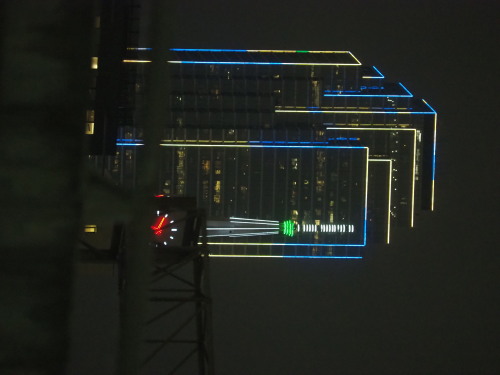 I love Ukraine. It's one of my favorite countries that I've visited. I've travelled from Lviv to Kyiv via rail, and back via regional jet (or vice versa -- I can't remember). I saw churches, military installations, book festivals, cold war relics, ancient forts, and lots of tough, kind-hearted, speak-your-mind type of people. Theirs is a culture that blends East and West, old and new, and has a distinct character unlike anywhere else.
Russia's Putin seeks to destroy and assimilate this culture into a second CCCP. The man fancies himself a warlord. A nuclear power with a truly medieval brain.
Ultimately, this will end up very bad for Putin and Russia. The Ukrainian people are tough and resilient. They won't let their country go easily. And after it's all said and done, nobody will want to be seen doing business with Russia. Unfortunately, there will be bloodshed and senseless violence in between now and then.
The Ukrainian National Bank is accepting donations via SWIFT. You can get the information on how to donate from their official website. As the Ukrainian government websites have been under attack, I will mirror the information for USD donations below. Please consider donating to help the Ukrainian people defend themselves.
For USD remittances:
SWIFT Code NBU: NBUA UA UX
JP MORGAN CHASE BANK, New York
SWIFT Code: CHASUS33
Account: 400807238
383 Madison Avenue, New York, NY 10179, USA
Funds will be wired into account No. UA843000010000000047330992708

Tags: photography, politics, scary stuff, travel, ukraine | No comments