My husband and I got bikes recently, from a local shop located in a dilapidated Frito factory. We awkwardly peddled them back home to our home, located in a 114 year old Model T factory.
Having not ridden a bike since middle school so many years ago, it took us some time to get used to them. Balancing and going fast aren't the problem, so much as starting and stopping.
But I've really taken to riding after work. For what Dallas lacks in nature hikes, it makes up for in bike trails. We can ride from our home in Deep Ellum all the way to White Rock Lake and the trail that encomposses it, with only a few blocks of road travel and just a few intersections.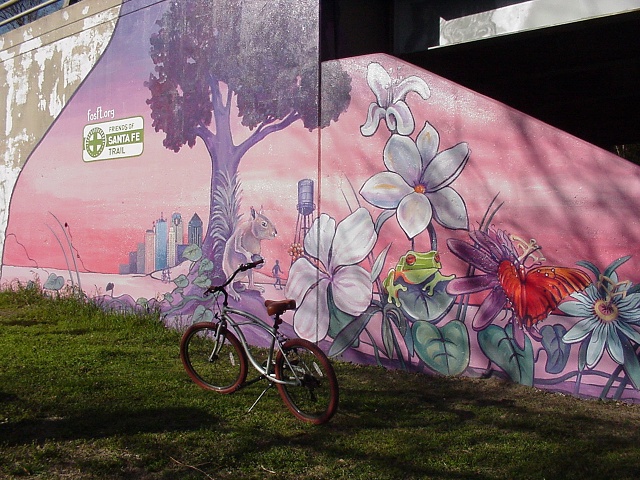 Today, I thought it would be fun to bring my Sony Mavica, model MVC-FD88, along for the ride. I brought along a satchel full of 1.44 MB new-old-stock Office Depot floppy diskettes, but I only got through three of them before my long-disused battery ran out.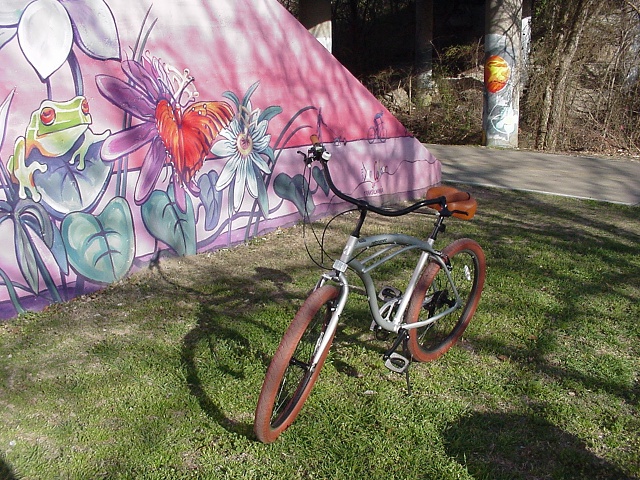 So, yes, 33% of the pictures that I took are of my bike. Though it's pretty fine-looking, if I do say so myself.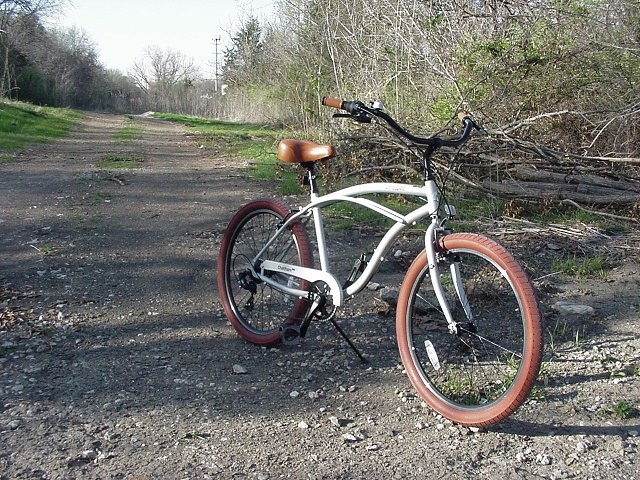 Hey, it's a new toy and I want to show it off. Could you really blame me? Though the reason I pulled over on this gravel wasn't to get another shot of my bike, it was this: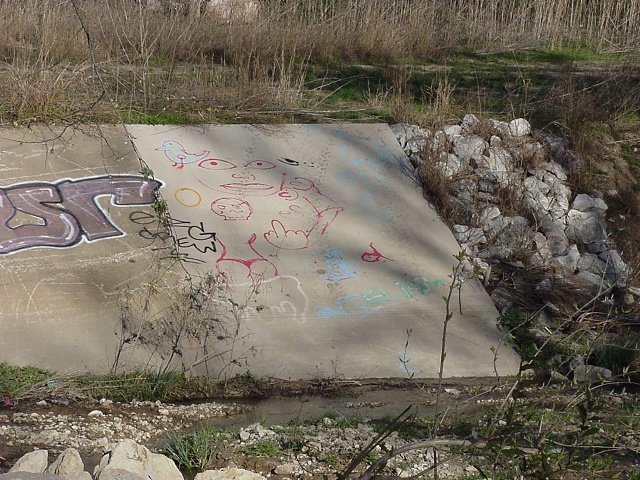 I'm not normally a fan of graffiti, but I would certainly rather it be done against stark slabs of cement than the natural features themselves. So, thank you for that, anonymous lady-butt drawer.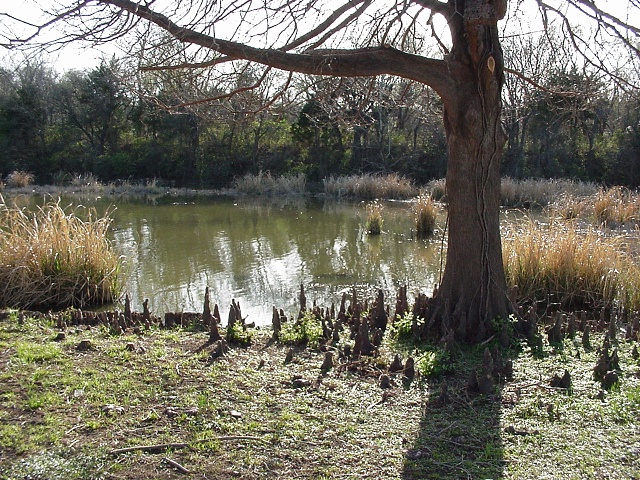 I enjoy the limitations of the crappy digital camera... uh, format? This would be a rather mediocre picture if taken with a good camera. It's over-exposed, there's a lot of detail washed out. But the artifacts and jpeg-edness of it all make it so much mroe interesting. And I can still arrange a halfway decent composition, at least if I stare intently into the early 00s LCD technology intently enough.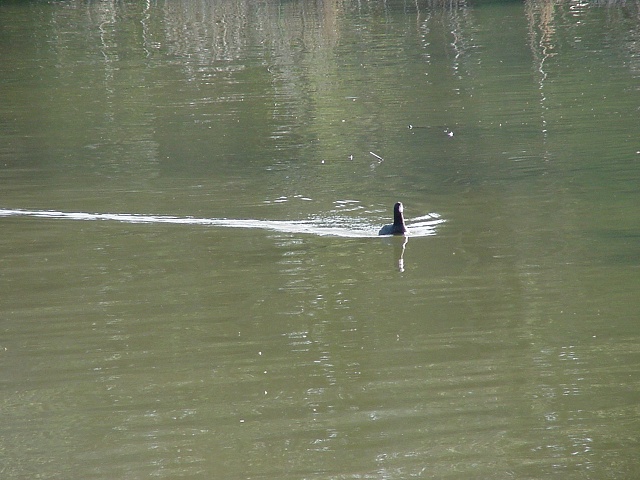 And this thing has some halfway-decent glass in it, for being a monolith without any form of changeable lens. I won't pretend this isn't a crap photo, but I'm always impressed how close I can get with the optical zoom.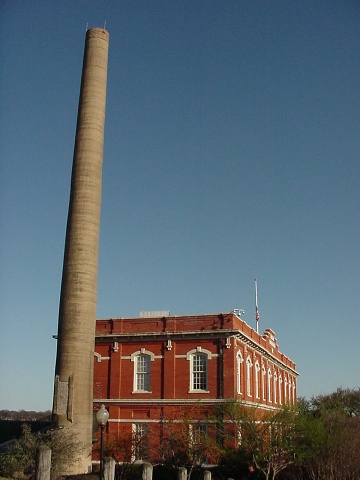 There are some pretty old buildings around the lake. Clubhouses, some repurposed industrial buildings. I think most of them are venue spaces now.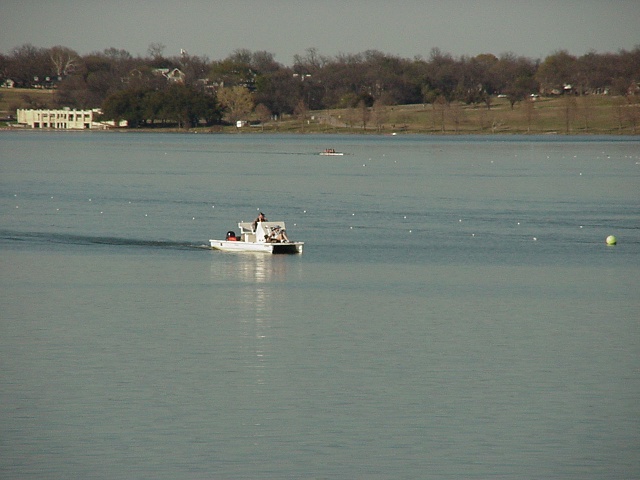 There was some sort of rowing competition. I wanted to get more pictures of it, maybe even a zoomy panning shot, but my battery was running low. All I got was this chaser boat, and perhaps the only particularly decent shot of this set: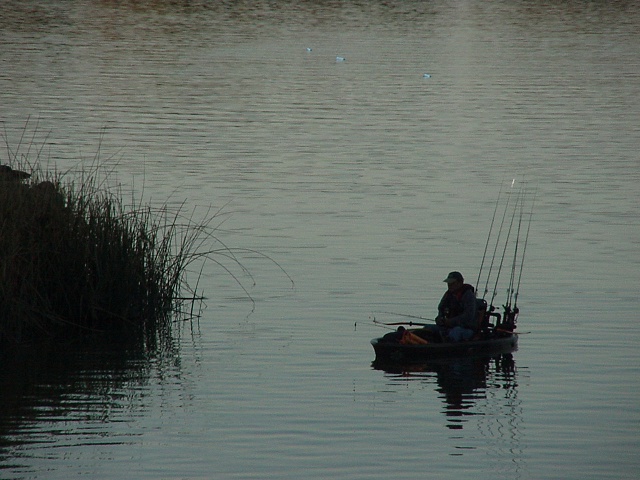 This fisherman seemed none too pleased that he chose rowing competition day to get all of his gear together and head down to the lake. Hopefully he had something to show for at the end of the day.
Not a bad day of bike riding or shooting! And I'm pleased to be re-acquainted with the good old post-workout feeling of tired/not-tired. The mostly uphill ride home was strenous, but invigorating. And I'll certainly be bringing crappy old digital cameras on future rides!
The full gallery is available here. It's interesting -- usually I throw away between 80 and 100% of the digital pictures I take. But something about the limiting nature of recording them on floppies makes me think about the ones I take more, like with film. These are all the exposures that I took today!
It's almost like it's the best of both worlds, if you can excuse the poor sensor technology and image resolution.
Tags: hobbies, mavica, my thighs, old technology, outdoors, photography | No comments